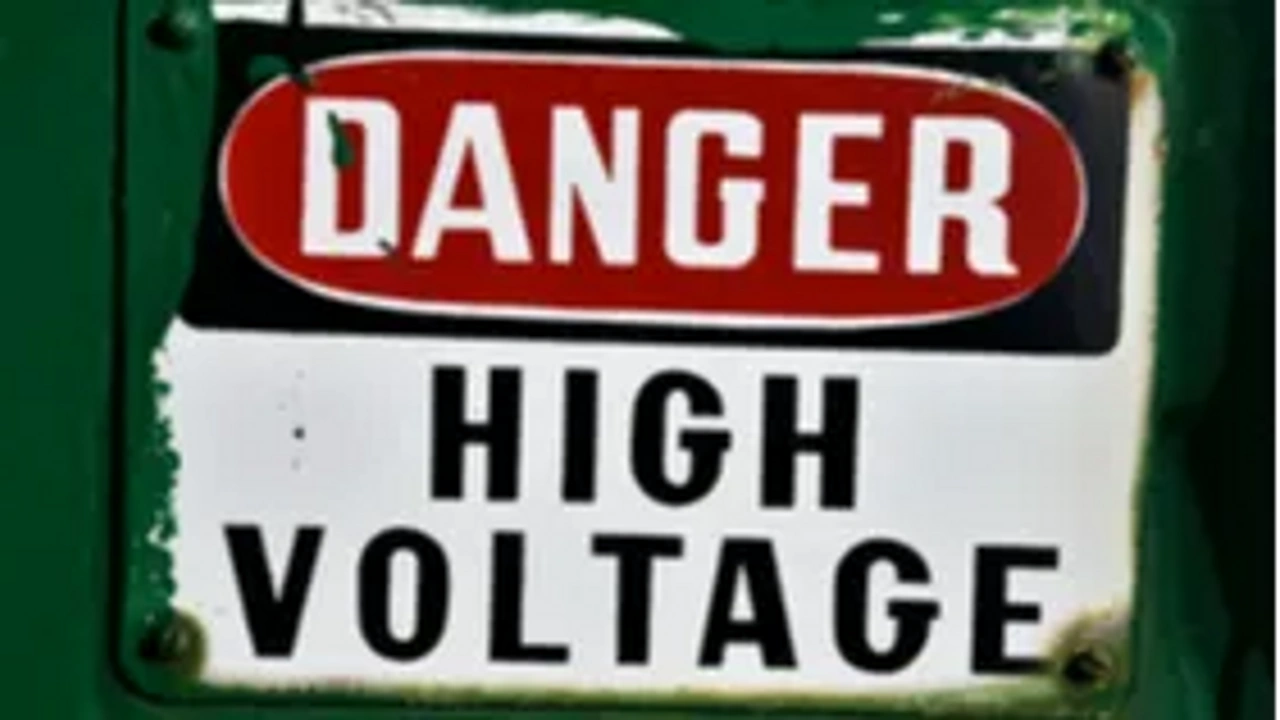 Let there be sound, and there was sound Let there be light, and there was light Let there be drums, there was drums Let there be guitar, there was guitar Oh, let there be rock!
And it came to pass That rock 'n' roll was born All across the land every rockin' band Was blowin' up a storm
One doesn't usually equate rock n roll music, nor AC/DC, with PMO Leadership or Project Management. While out for a walk one day I was a bit, Thunderstruck, as I was listening to my AC/DC playlist. There are so many references which are a perfect match for my career leading projects and PMOs. I decided to take a deep dive into the albums, lyrics, and songs of my favorite band to find the connections with my journey as a project management leader. The output of my work is High Voltage Project Management, influenced by over 50 AC/DC songs spanning move than 40 years of musical genius.
Just like the iconic lyrics in Let There Be Rock, in High Voltage Project Management I utilize Sound, Lights, Drums and Guitar for my Project Management Journey. Each verse contains a collection of songs that relate to our shared experiences as project managers.
Sound - Project Management Character

Lights - Project Management Execution

Drums - Project Management Career

Guitar - Project Management Profession
Throw on your headphones, put on your favorite AC/DC songs, crank up the volume and enjoy the journey.
We're just talkin' about the future Forget about the past It'll always be with us It's never gonna die, never gonna die Rock 'n' roll ain't noise pollution
Despite all the rumors Project Management is alive and kicking, It's never gonna die. Project Management Ain't Noise Pollution or overhead in an organization. It is the driving beat that helps push organizations forward project after project after project. To me it makes good, good sense! We can all be great musicians, singers, and crew but together we are the band, the PMO. The PMO and our rock stars will continue putting out the hits for years and decades to come!
Sound - Project Management Character
It takes a special person to be a successful project manager. There are plenty of Risks and Issues we work through on a regular basis. We have to deal with the personalities of multiple stakeholders and the stresses of deadlines and budgets. It's not for the faint hearted. Rejection is commonplace for project managers. "No you can't increase the budget", "No you can't add team members", "No you can't delay implementation" are an all too familiar chorus we hear. Far too often our ideas are Shot Down in Flames. We need to be able to bounce back from being turned away at every request and build a thick skin.
As experienced project managers you know we pour our heart and soul into our projects. If You Want Blood You've Got It lyrics drive home the point...
Feelin' like a christian Locked in a cage Thrown to the lions On the second page If you want blood, you got it
Sound familiar to you as well? When you are getting hit and rejected turn after turn the PM must take it for the team and keep the project moving forward.
We must have a Stiff Upper Lip. We can't be rattled by angry Sponsors or teammates. We can't be shaken when a project stumbles or fails. We need to be Back in Business and know that we'll be Back in Black...
I've been looking at the sky; 'Cause it's gettin' me high; Forget the hearse 'cause I never die; I got nine lives; Cat's eyes; Abusin' every one of them and running wild
Lights - Project Management Execution
A good project management pro has been through the battles in the trenches developing a sound character to be proud of and collect the lesson learned of past projects. Delivering projects, Project Execution is when we hear the thunderous beat to keep us motivated as the lights shine bright on us.
The project manager certainly knows the meaning of Dirty Deeds Done Dirt Cheap and Money Talks as we work to keep our projects on track. Try that we might, we know at some point we'll see the CPI get out of control and know we've reached Code Red.
When we think back to our team meetings and developing status reports we've all experienced that one teammate who is Beating Around the Bush...
Smiling face and loving eyes But you keep on telling me all those lies How do you expect me to believe Honey I ain't that naive; Baby I got my eye on you 'Cause you do all the things I want you to Stop your cryin' and dry your tears I ain't that wet behind the ears; You can throw me lefts And you can throw me rights But where was you last night Beating around the bush
As the project reaches Go Live and the excitement starts to ramp up, we feel the energy in the team. Stress is high, emotions on edge, it's the Go Zone and no time for Systems Down or a Meltdown. We've all faced the Executive Steering Committee and know that this is very different than a dress rehearsal or team meeting, this is Show Business and sometimes we get a sneak peek at Sin City.
We learn how to Play Ball and occasionally when things are really off the rails the message comes down from above to blow it up. Time for T.N.T. and There's Gonna Be Some Rockin as the Executives share their frustration and disappointment. Unsure how they had inside knowledge you realize someone must have gone behind your back as Hail Caesar rings through your head.
Even though the team has a Squealer you can still overcome the set back and hope there hasn't been a Jailbreak...
Heartbeats, they were racin' Freedom, he was chasin' Spotlights, sirens, rifles firin' But he made it out With a bullet in his back
Drums - Project Management Career
The career of a project manager is a long road, one could say It's a Long Way to the Top if You Wanna Rock n Rolland we know that it Ain't No Fun Waiting Round to be a Millionaire.
And I got patches on the patches On my old blue jeans Well they used to be blue When they used to be new When they used to be clean
It takes time to climb the career ladder from Coordinator to Jr PM, then PM and finally a Sr Project Manager. Even longer to become a PMO Manager or Director and eventually the coveted VP of Project Management. Along the journey you'll experience Baptism By Fire and you'll have plenty of School Days.
There will be doubters who question your character and wonder aloud What Do You Do For Money Honey. Sponsors will try to Walk All Over You and call you a Problem Child or worse. There will be days you question your career choices. You'll hear Hells Bells and wonder if you're on a Highway to Hell...
Livin' easy Lovin' free, Season ticket on a one way ride Askin' nothin', Leave me be, Takin' everything in my stride Don't need reason, Don't need rhyme, Ain't nothin' I'd rather do
Persist you must as you struggle to advance. You will face many a Nervous Shakedown and feel the pain as if it were the Night of the Long Knives. We are a special breed though. We are tough, we are committed, we are built to lead. We may feel the Down Payment Blues from time to time, but we know it is worth it in the long run. For when we reach our goals, we know we'll be Thunderstruck...
I was caught In the middle of a railroad track I looked round And I knew there was no turning back My mind raced And I thought what could I do And I knew There was no help, no help from you Sound of the drums Beating in my heart The thunder of guns Tore me apart You've been Thunderstruck
Guitar - Project Management Profession
Project Managers have been leading projects as long as man has been alive. Professional, intentional project management however, is relatively young as a profession. There are many disciplines, methodologies, frameworks and approaches to project delivery that vary across industries and associations. Regardless of the approach, industry, or project size one thing is for certain, project managers want to be the Rock n Roll Singer. We are the front man for our band, the Bon Scott, Brian Johnson, Jim Morrison, Mick Jagger, Robert Plant of our project team...
My daddy was workin' nine to five When my momma was havin' me By the time I was half alive I knew what I was gonna be But I left school and grew my hair They didn't understand They wanted me to be respected as A doctor or a lawyer man (But I had other plans) Gonna be a rock 'n' roll singer Gonna be a rock 'n' roll star
While historically a male dominated profession we are finally starting to shine the light on the outstanding women in project management. There are many leaders of this movement such as Elise Stevens and her

#celebratingwomeninprojectmanagement

initiative. She's Got Balls is an anthem to all the female leaders who are rockin projects around the world showing us that women are just as much out front like Janis Joplin, Debbie Harry, Ann Wilson, Joan Jett and Stevie Nicks.
To know where we are today and where our profession is headed, we should have an eye to the past. What are the beginnings of modern project management and ask ourselves, Who Make Who? There weren't university degrees for project management. There weren't global associations for project management. But there were pioneers, leading the way who had the courage to step out on stage, grab the mic and let the world know that Project Management was born.
And it came to pass That rock 'n' roll was born All across the land every rockin' band Was blowin' up a storm
And the guitar man got famous The business man got rich And in every bar there was a superstar With a seven year itch
There was fifteen million fingers Learnin' how to play And you could hear the fingers pickin' And this is what they had to say
Let there be light, sound, drums, guitar Oh, let there be rock!
To those who came before us, the originals, Henry Gantt, Peter Norden, Willard Frazar, and many, many others we recognize you and provide a toast to Ride On as your time has gone but your influence will forever remain. For all my brothers and sisters who lead your band on stage every day I raise my glass and shout Have a Drink on Me! Only we know what it's like to be the front man/woman performing every day to deliver the most important projects for companies around the world. For Those About to Rock We Salute You...
Stand up and be counted For what you are about to receive We are the dealers We'll give you everything you need Hail hail to the good times 'Cause rock has got the right of way We ain't no legend, ain't no cause We're just livin' for today For those about to rock, we salute you
I thank all those who came before me, the Hall of Famers, the ones willing to take the risk. I'm here to mentor and coach the next generation of rock n roll singers eager to be in the spotlight. It isn't yet my time to ride on, so I share with all of you that this is High Voltage Project Management. A salute to all of you and inspired by my love of AC/DC...
Well you ask me why I like to dance; And you ask me why I like to sing; And you ask me why I like to play; I got to get my kicks some way; And you ask me what I'm all about; Come and let me hear you shout high
High Voltage Rock n Roll
Are you lost or struggling to gain traction on your Project Management Journey?
Schedule a Complimentary Strategy Session with one of our experts so that we can discover your challenges, design your solution, and implement success in your projects!
We hate SPAM. We will never sell your information, for any reason.