WHY ASANA
According to IDC, Asana improves employee productivity and company efficiency.
Built to support any team and any workflow
Quickly connect complex work across teams
Decrease duplicate work and increase cross-team visibility. Add the same task to multiple projects and see it update automatically.
Schedule a Strategy Session
The only platform that grows as your teams scales
Get more work done across teams with unlimited monthly actions, the ability to track hundreds of projects in one place, and by reporting against your entire organization.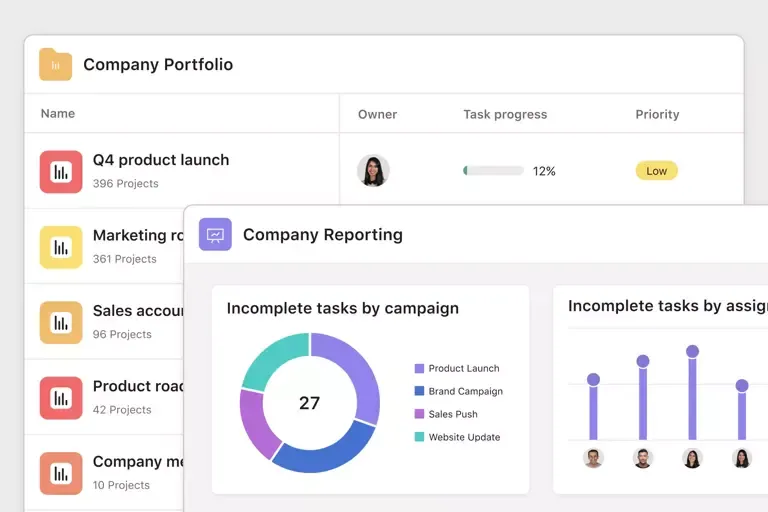 The PMO Squad is Proud to be
An Official Asana Partner
We have been approved by Asana as an official channel partner, meaning we are a vetted expert at helping you deploy with confidence, plan and prioritize projects, and get custom solutions. Click the button to the right to view our listing on Asana's Channel Partner Directory >>>>>>>
3 EASY STEPS
Transforming your Project Delivery Capabilities with Asana
Robust features to achieve any business objective as your company grows
Drive Cross-Team Efficiency
Streamline projects with Timeline, Board, and List views

Gain clarity on bottlenecks and allocate work with Workload

Manage resourcing for teams with messaging, comments, and unique views
Automate processes
Systemize intakes with Workflow Builder and Forms

Reduce manual work with custom Rules like assigning tasks and updating statuses

Automate work in one place with 200+ integrations
Get Real Time Insights
Monitor progress across teams, without manual work

Build personalized visualizations with Custom Fields and Charts

Save time on creating reports with a robust Charts template library
Protect Sensitive Data
Keep data secure with two-factor authentication, SSO, and SAML 2.0
Support data compliance and governance with data export, data deletion, E2E encryption, regional backups and Enterprise Key Management (EKM)
Manage Permissions and Settings
Control permissions, privacy settings, security requirements and more from a centralized admin console
Use SCIM to easily manage access with user and group provisioning and deprovisioning
Set Goals and Drive Alignment
Align your organization and inspire ownership with Goals
Track all of your team's projects in a single view with Portfolios
Easily monitor the status of key projects
Are you lost or struggling to gain traction on your Project Management Journey?
Schedule a Complimentary Strategy Session with one of our experts so that we can discover your challenges, design your solution, and implement success in your projects!
Schedule a Strategy Session